AdBlue 2x10 litres DEF BlueDEF Mannol German Ad Blue Car & Commercials 20L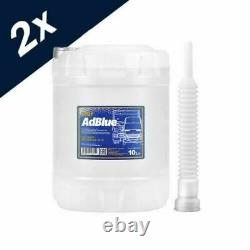 AF13++ OAT Purple Anti Freeze. G11 - Blue Anti Freeze. G12 - Red Anti Freeze. G13 - Green Anti Freeze. G13+ - Yellow Anti Freeze.
AdBlue 2x10 litres DEF BlueDEF Mannol German Ad Blue Car & Commercials 20L. Is a high-purity 32,5 % w/w urea solution which is used as an additional working fluid in diesel cars and trucks equipped with SCR technology (Selective Catalytic Reduction). The composition of AdBlue® is specified in DIN 70070. The use of such systems optimises engine performance, reduces the emission of harmful particles in exhaust gases and complies with the environmental standards Euro 4, Euro 5 and Euro 6. Density at 20 ° C.
We reserve the right to alter the general characteristics of our products in order to let our consumers benefit from the latest technical development. One of the largest independent online retailers of Oils and Fluids, we are the No. We hold a massive stock of oils for all applications from mineral to super high-tech racing synthetics, engine oils, gear oils, differential and axle oils, brake fluids, power steering fluid, coolant and workshop products.
We hold over 500 000 litres of fluids in our warehouse at any taken point of time from 100ml all over up to 1000l IBC's. We have a massive range for all your vehicle servicing & maintenance needs. Oil, Air, Cabin, Fuel, Transmission filters, bulbs, wiper blades, brake pads and sensors, car care products, DPF cleaning additives, workshop tools and more. In these Terms and Conditions, unless the context otherwise requires, the following expressions have the following meanings. Means any day other than a Saturday, Sunday or bank holiday. Means the price stated in the Contract payable for the Goods. Means Carousel Car Parts Limited incorporated and registered in England and Wales with company number 12167879 whose registered office is 20-22 Wenlock Road, London, England, N1 7GU. And includes all employees and agents of Carousel Car Parts Limited. Unless the context otherwise requires, each reference in these Terms and Conditions to. "Writing", and any cognate expression, includes a reference to any communication effected by electronic or facsimile transmission or similar means. A statute or a provision of a statute is a reference to that statute or provision as amended or re-enacted at the relevant time. "These Terms and Conditions" is a reference to these Terms and Conditions and any Schedules as amended or supplemented at the relevant time. A Schedule is a schedule to these Terms and Conditions; and. A Clause or paragraph is a reference to a Clause of these Terms and Conditions (other than the Schedules) or a paragraph of the relevant Schedule. A "Party" or the "Parties" refer to the parties to these Terms and Conditions.
The headings used in these Terms and Conditions are for convenience only and shall have no effect upon the interpretation of these Terms and Conditions. Words imparting the singular number shall include the plural and vice versa. References to any gender shall include the other gender.
Orders received for quantities other than these will be adjusted accordingly. 9.1 Goods which have been specially ordered for credit. 9.2 Goods that have already been used or fitted.
9.3 Goods with damaged original packaging and/or which are not in resalable condition. At the end of the current month; or.
All payments must be made in British Pounds unless otherwise agreed in writing between the Parties. Each separate instalment will be invoiced and paid for in accordance with the provisions of this Contract. Each instalment will be a separate Contract and, unless specifically set out in these Conditions, no cancellation or termination of any one Contract relating to an instalment will entitle you to repudiate or cancel any other contract or instalment unless otherwise agreed with us on a case by case basis.
Where the Goods cannot be examined the carrier's note or such other note as appropriate shall be marked "not examined". The defect arises from normal wear and tear of the Goods; and/or. Risk and Retention of Title. Return such goods at his risk and cost; and.
Any breach of these conditions. Any representation, statement or tortious act or omission including negligence arising under or in connection with the Contract. All warranties, conditions and other terms implied by statute or common law (save for the conditions implied by section 12 of the Sale of Goods Act 1979) are, to the fullest extent permitted by law, excluded from the Contract. For fraud or fraudulent misrepresentation.
Subject to sub-Clauses 14.2 and3. The provisions of this Clause 15 shall survive the termination of the Contract.
All notices under these Terms and Conditions and under the Contract shall be in writing and be deemed duly given if signed by, or on behalf of, a duly authorised officer of the Party giving the notice. Notices shall be deemed to have been duly given. Neither Party shall be liable for any failure nor is delay in performing their obligations where such failure or delay results from any causing that beyond the reasonable control of that Party. Such causes include, but are not limited to: power failure, Internet Service Provider failure, industrial action, civil unrest, fire, flood, storms, earthquakes, acts of terrorism, acts of war, governmental action or any other event that is beyond the control of the Party in question.
The Parties agree that no failure by either Party to enforce the performance of any provision in these Terms and Conditions or under the Contract shall constitute a waiver of the right to subsequently enforce that provision or any other provision. Such failure shall not be deemed to be a waiver of any preceding or subsequent breach and shall not constitute a continuing waiver. The Parties agree that, if one or more of the provisions of these Terms and Conditions or the Contract are found to be unlawful, invalid or otherwise unenforceable, that / those provisions shall be deemed severed from the remainder of these Terms and Conditions (and, by extension, the Contract).
The remainder of these and the Contract shall be valid and enforceable. A person who is not a party to the Contract shall have no rights under the Contract pursuant to the Contracts (Rights of Third Parties) Act 1999. These Terms and Conditions and the Contract (including any non-contractual matters and obligations arising therefrom or associated therewith) shall be governed by, and construed in accordance with, the laws of England and Wales. Any dispute, controversy, proceedings or claim between the Parties relating to these Terms and Conditions or to the Contract (including any non-contractual matters and obligations arising therefrom or associated therewith) shall fall within the jurisdiction of the courts of England and Wales.
ZONE A - All postcode in England and Wales. ZONE B - DD, DG, EH, FK, G, KA (except KA27 & KA28), KY, ML, TD, AB 1-16, AB21-25, AB30, AB39, PA1-19, PH1-PH3.
ZONE C - AB31-38, AB40-56, IV1-28, IV30-32, IV36 & IV40, IV 52-IV54, IV63, KW1-KW14, PA21-PA38, PH4-PH41, PH49 & PH50, Northern Ireland (BT). ZONE D - Scottish Offshore Islands - HS, IV41-49, IV51 -IV56, KA27 & KA28, KW15-KW17, PA20, PA41-PA49, PA60-PA78, PH42-PH44, ZE, Channel Islands and Isle of Man (IM). Customer responsible for return cost unless wrong or faulty item supplied. Below are common Frequently Asked Questions.
What courier do you use for deliveries? Our cut off point is 3pm, Monday to Friday.
We currently do not deliver on weekends. Can I collect from a store? This is available on the checkout page. Can I get more information on a product? A part is not listed online so can you order for me?
Yes, we will do our best to order the part for you through our supply chain. Will I get the same price in store? Prices between stores and online can vary for promotional purposes.
To ensure you get the online price in store, please use the Collection service online. Is it possible to change the address/cancel or amend my order? Due to the high volume of orders we receive, we have an automatic invoicing system.
We can attempt to stop or amend your order with our dispatch team, if it is not possible, we will advise you on the next steps. Get the latest news, updates and special offers about our store. The item "AdBlue 2x10 litres DEF BlueDEF Mannol German Ad Blue Car & Commercials 20L" is in sale since Monday, September 26, 2016. This item is in the category "Vehicle Parts & Accessories\Oils, Fluids & Lubricants\Fuel Additives & Treatments".
The seller is "lubriagecarpartsaccessories" and is located in Milton Keynes,. This item can be shipped to United Kingdom.
Brand: MANNOL
Manufacturer Part Number: AD3001-10x2
Type: DPF Cleaner
Unit Quantity: 20
Unit Type: L
Volume: 20 L
Application: Conventional Vehicle
Reference OE/OEM Number: TYPE High-purity urea solution DIN 70070 ISO 22241-1