Three Steel Seal (x3) Fixes Blown Head Gasket Guaranteed Cylinder Head Steelseal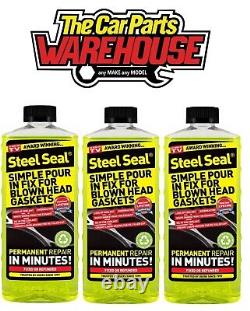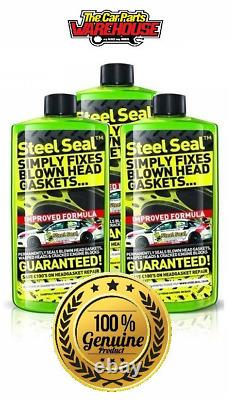 Stealseal (X 3) ENGINES OVER 4.0 litre. Steel Seal Gasket Engine Block Repair and Fix Pour In Head Liquid Green Steel Seal Head Gasket Repair is the only product of its kind, permanently seals blown head gaskets, warped heads and cracked engine blocks and heads. Steel Seal creates a permanent seal that will withstand high temperatures and high pressure. This product can be used in both petrol and diesel engines. Comparable products rely on fillers to do the repair work, but as pressures rise and fall, as in ignition and shut off, the particles lodged in cracks and leaks become loosened.
Steel seal is a unique blend of several chemicals, its a clear formula that contains no fibrous materials or particles that could clog engine coolant passages For terms of guarantee see Steel seals website. BELOW 2.0 litre engine 1 BOTTLE. OVER 2.0 litre engine 2 BOTTLES. OVER 4.0 litre engine 3 BOTTLES.
PLEASE SEE TERMS AND CONDITIONS ON STEELSEAL'S WEBSITE.