Renault Trafic 2014 19 PASSENGER Sliding DRIVER Fixed Windows Fit Kit U Trim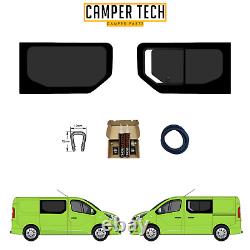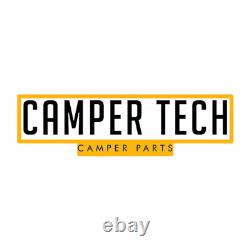 Renault Trafic 14 -19 PASSENGER Sliding, DRIVER Fixed Windows with Bonding Kit And U Trim. Renault Trafic PASSENGER Sliding Window, DRIVER Fixed Windows.
These wont fit twin sliding door models. 1 x Renault Trafic PASSENGER Side Sliding Window. 1 x Renault Trafic DRIVER Side Fixed Window. Privacy Stained glass (not a tinting film). Tinted to 80% allowing 20% of light to pass through.
Toughened safety glass, E-marked and AS Rated to strict European standards. No ugly surround around the opening edge. Locks in 3 places when open. No external window latch or drain holes. Black ceramic (silk print) round the internal circumference of the glass so you can't see the cut metal work.
Manufactured to the same height as our rear quarter windows, so a perfect match between the two sections of glass. Size Passenger Side 1192mm x 660mm. Size Driver Side 1192mm x 665mm. 2 x Primer Wipes to clean the window and body panel before applying primer. 1 x jar of primer (to be applied to the window and body panel before applying adhesive).
2 x "cotton buds" to apply the primer. 2 x Tubes of 60 minute driveway OEM approved structural ADHESIVE (applied through standard silicone gun). 2 x Pre cut V nozzles for the adhesive. Used to cover the cut edge. He driver side window will not fit a sliding door. Passenger Side Sliding Door And Panel Opposite. Vauxhall Vivaro SWB 2014 -2019. Vauxhall Vivaro LWB 2014 -2019. Renault Trafic SWB 2014 - 2019. Renault Trafic LWB 2014 -2019. Nissan Primastar SWB 2014 -2019. Nissan Primastar LWB 2014 -2019. These are for new window conversions or to replace a factory fitted window. Windows brought to you by Camper Tech. Your parcel will be sent by courier, and larger items may need a signature. Places like the Scottish Highlands, Northern Ireland, Isle of Man and Isle of wight.
Welcome to Camper Tech, We stock quality parts for all types of camper vans. All items prior to despatch will be thoroughly inspected and a return will only be accepted if the item is received in the same condition.