PROFESSIONAL 2018 Diagnostic Laptop Car/Van/Truck Airbag ABS Remap Chip Tuning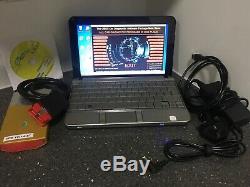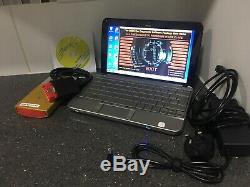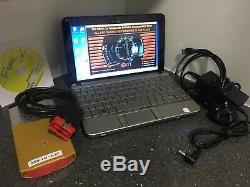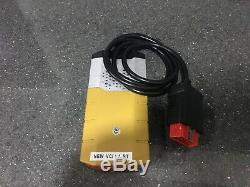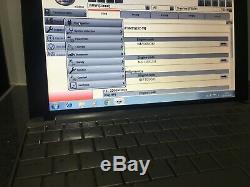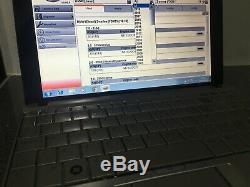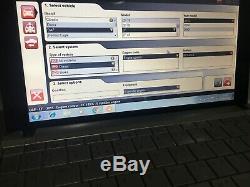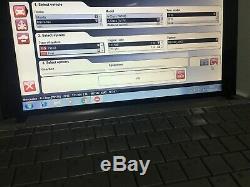 Fully comprehensive Dealer level access diagnostic LAPTOP and scanner/interface ALL- IN- ONE system, faster diagnosis, that supports around 54,000 vehicle systems on more than 4000 models from over 48 vehicle manufacturers Awesome piece of equipment! THE Netbook WILL be a HP, DELL, SAMSUNG, EEPC-ASUS or similiar type and have win7 pre loaded with DIAGNOSTIC SOFTWARE ON IT. The charger and scanner/ interface obd lead are all included in the package bear in mind LAPTOP IS OLD AND WILL HAVE WEAR AND SOME SCUFF OR SCRATCHES BUT WILL BE IN GOOD WORKING ORDER AND WILL HELP YOU CARRY OUT DIAGNOSTIC JOBS. Ready to go out of the box.
Anything you are unsure about, please contact me and we will help to answer all your enquiries. Car and truck software upto 2016. Second car software upto 2018. This listing is for a fully complete professional ALL-IN-ONE PACKAGE dealer level, professional laptop, loaded with the up to date diagnostic software plus more.
This is a must have for any home mechanic or professional garage. This is a professional diagnostic laptop. Please read on for what this system can do, plus bonus software included too! Full system coverage for BMW, VAG, Ford, Peugeot, Citroen, Renault, Vauxhall, Rover, Fiat, Volvo, Mazda, Mercedes, Smart, Nissan, Subaru, Toyota, Hyundai.
Also covers vans and trucks. List is at the bottom.
Read, identify and erase diagnostics fault codes from all modules Auto-identify your vehicle number, chassis, ECU fitted etc. Read& Erase Fault Codes & SLR All Systems Petrol & Diesel Engine Management, ABS, Instrument panel, Climate control, Gearbox, Immobiliser, SRS, Multifunction (Central Body, Central Locking, Convenience Systems, Chassis, Infotainment, Lights, Navigation, Seats, TPMS etc-Vehicle Specific) 2. Look at Live Data, graphing and saving of live data3. ECU Coding / Parameter Adjustments / Component Configuration (initialization of new components, particulate filter regeneration, Diesel Injector coding, TPMS etc)5.
Intelligent System Scan complete scan of all ECU / ECMs on vehicle platform, configurable by system6. Full Vehicle Information tree allowing vehicle specific check of OBD functionality without being connected to a vehicle-Customer reporting system-Direct Linking to Tcscdp Technical Data7. Service Light Reset and Service Interval Reset, including BMW Condition Based Service reset and Fiat Stilo. Audi A6, A8 / VW Passat, Electronic Handbrake, Piston reset for before and after brake service Mercedes E Class (211/230) De-activation and Activation of SBC (brake-by-wire) brake system, so that brakes can be serviced. Peugeot Additive Tank Reset and Regeneration of Particle Emission Filters Renault Laguna II, Espace IV, Velsatis, Peugeot 607, 807 and Citroen C5& C8 - Tyre 9. Diesel Injector Coding for TCS Systems11. Fully supports ISO, VPW, and PWM Protocols12.
Pressure Monitoring Systems Valve programming13. Diesel Injector Coding for Tcscdp Systems. Reset all service indicators (including 2010 and later Audi and VW).
Has a database of more than 16000 fault-codes and measuring-block texts. New, more universal Airbag Coding Assistant.
Refactored DTC routines which interpret DTC data, including enhanced interpretation of status byte for DTCs in UDS modules. Get up to date, accurate data for all vehicles and modules. No more unknown fault codes or garbled data to puzzle over. Guided fault finding quickly and easily helps you to pinpoint and repair vehicle systems that generic scan tools do not even cover. NEW Comprehensive Diagnostic OBD2 EOBD.
You'll be able to diagnose the following systems. Makes and Models Covered: Alfa Romeo 145, 146, 147, 155, 156, 159, 164, 166, 33, Brera/Spider, Giulietta, GT, GTV/Spider96, MiToAudi A1, A2, A3, A4, A5, A6, A7, A8, R8, Q3, Q5, Q7, TT, 80, 90, 100, 200, Coupe, S2, RS2, S4, S6, S8, V8Bentley Arnage, Continental GTBMW series 1, 3, 5, 6, 7, 8, GT, X1, X3, X5, X6, Z3, Z4Chrysler 300c, 300m, Crossfire, Grand Voyager, Neon, PT Cruiser, Sebring, Stratus, Viper, VoyagerCitroen AX, Berlingo series 1, 2, 3, BX, C1, C2, C3 Picasso, C3 Pluriel, C3Series 1, 2, 3, C4, C5, C6, C8, C15 Crosser, DS3, DS4, DS5, Evasion, JumperSeries 1, 2, 3, Nemo, Saxo, Xantia, XM, Asara Picason, ZXDacia Duster, Logan, Pick-up, Sandero, SolenzaDaewoo Evanda, Kalos, Lancetti, MatizDaihatsu Charade, Mira, Cuore, Sirion, Copen, Move, Trevis, YRV, TeriosDodge Avenger, Caliber, Journey, NitroFerrari 360, 456M, 550 Barchetta, 575M Maranello, 599 GTB Fiorano, 612 Scaglietti, Enzo, F430, FXX, SuperamericaFiat 500, Albea, Barchetta, Brave, Bravo, Cinquecento, Coupe, Croma, Doblo, Ducato, Fiorino, Freemont, Idea, Linea, Marea, Multipla, Palio, Panda, Punto(Evo & Grande), Qubo, Scudo, Sedici, Seicento, Stilo, Strada, Tipo, Ulysse, UnoFord Cougar, Courier, Escort, Fiesta, Focus, Fusion, Galaxy, Granada, Ka, Kuga, Maverick, Mondeo, Orion, Puma, Ranger, Scorpio, Sierra, S-Max, Street Ka, Tourneo Connect, Transit, WindstarHonda Accord, Civic, CR-V, CR-X, CR-Z, FR-V, Insight, Jazz, Legend, PreludeHyundai Atos, Accent, Sonata, Elantra, Getz, Matrix, Coupe, Trajet, Santa Fe, Terracan, H1, Tuscon, i10, i20, i30, ix20, ix35, i40, Veloster, Genesis CoupeIsuzu D-Max, TrooperJaguar S-Type, XF, XJ, XK, X-TypeJeep Cherokee, Commander, Compass, Grand Cherokee, Patriot, WranglerKia Carens, Carnival, Ceed, Cerato, Magentis, Opirus, Picanto, Pregtio, Rio, Sephia, Shuma, Sorento, Soul, Sportage, VengaLamborghini Gallard, MurcielagoLancia Dedra, Delta, Kappa, Lybra, Musa, New Delta, Phedra, Thema, Thesis, Y10, Ypsilon, ZetaLand Rover Defender, Discovery, Freelander, Range Rover Lexus GS-Series, IS, LX, RX400h, RX, SCLotus 2 Eleven, Elise, Esprit, Europa S, ExieMaserati Coupe, Gran Turismo, MC12, Quattroporte, SpyderMazda 2, 3, 5, 6, BT-50, MPV, MX-3, MX-5, MX-6, 121, 323, 626, Xedos6, Premacy, Tribute, CX-5, CX-7, RX-8 Mercedes - Most Makes And ModelsMG NGF, TF, ZR, ZS, ZT, ZT-TMini Clubman, Convertible, CooperS, Cooper One, Countryman, Coupe, RoadsterMitsubishi ASX, Carisma, Colt, Eclipse, Galant, Grandis, L200, Lancer, Outlander, Pajero, Space Star, Space RunnerNissan 200SX, 300ZX, 350Z, Almera, Cabstar, Frontier, Interstar X70, KubistarX76, Maxima, Micra, Murano, Narava D40, D22, Note E11, NV200, Pathfinder, Patrol GR, Pixo, Primastar, Primera, Qashqai, Safari, Serena, Sunny, Terrano, X-TrailOpel / Vauxhall Agila, Agila B, Antara, Ascona, Cavalier, Astra, Calibra, Combo, Corsa, Frontera, Insignia, Belmont, Meriva, Movano, Omega, Senator, Signum, Sintra, Speedster, Tigra, Vectra, Vivaro, Zafira Peugeot 106, 107, 205,206, 207, 208, 306, 307, 308, 309, 405, 406, 407, 508, 605, 607, 806, 807,1007, 3008, 5008, Bipper, Boxer, Expert, Partner, RCZPorsche 911 996,911 997, Boxster 986, 987, Cayenne3 955, 957, 958, CaymenRenault Clio, Espace, Fluence, Kangoo, Koleos, Laguna, Mascott, Master, Megane, Modus, R19, Safrane, Scenic, Thalia, Trafic, Twingo, Twizy, Vel Satis, WindRollsRoyce Silver SeraphRover 25, 45, 75, 100, 200, 400, 600, 800 seriesSaab 900, 9000, 9-3, 9-5Seat Alhambra, Altea, Arosa, Cordoba, Exeo, Ibiza, Inca, Leon, Mii, ToledoSkoda Citigo, Fabia, Felicias, Octavia, Praktik, Roomster, Superb, YetiSmart Forfour, Fortwo, RoadsterSsangyong Actyon, Kyron, Rexton, RodiusSubaru Forester, Impreza, Justy, Legacy, OutbackSuzuki Alto, Grand Vitara, Ignis, Jimny, Kizashi, Liana, Samurai, Splash, Swift, SX4, Vitara, Wagon RToyota 4-runner, Auris, Avensis, Aygo, Camry, Carina, Celica, Corolla, Corona, Hiace, Hilux, IQ, Land Cruiser, MR2, Picnic, Previa, Prius, Rav4, Supra, UrbanCruiser, Verso, YarisVolkswagen / VW Amarok, Beetle, Bora, Caddy, Corrado, Crafter, Eos, Fox, Golf, Jetta, LT, Lupo, Passat, Phaeton, Polo, Scirocco, Sharan, Transporter, Multivan, Tiguan, Touareg, Touran, Up, VentoVolvo C30, C70, S40, V40, S60, S80, V50, V60, V70, XC60, XC70, XC90, V90, 960,940, 850, 740, 480, 460, 440, 240Also covers all major trucks:: ALLISON, CHEVROLET, CITROEN, DACIA, DAF, DENNISEAGLE, EVOBUS CHASSIS, FIAT, FORD, GENERIC BUS SYSTEMS, GENERIC TRUCK SYSTEMS, HYUNDAI, IRISBUS CHASSIS, ISUZU, IVECO, IVECO TRUCKS, KAMAZ, KIA, LANCIA, RENAULT, MAN, MAN BUS CHASSIS, MAZDA, MERCEDES, MERCEDES TRUCK, MITSUBISHI, NISSAN, NISSAN TRUCK, VAUXHALL, PEUGEOT, SCANIA, SCANIA BUS SYSTEM, SEAT, SKODA, VW, VOLVO BUS CHASSIS, VOLVO TRUCKS. All of the above languages might not be available on all programs except english. Laptop will come loaded with bonus vehicle software. Ecu Engine Tune, Remap, chip tunning etc. You Will need additional cable/ interface for this Software to work. Some of the supported vehicles, Alfa Romeo, Audi, BMW, Chevrolet, Citroen, Chrysler, Ducati, Ferrari, Fiat, Ford, Holden, Honda, Hyundai, , Generic Bosch Generic Bosch, Generic Bosch GenericMulti, Izuzu, Iveco, Holden, Honda, Hyundai, Izuzu, Iveco, JEEP, Kia, Lancia, Land Rover, Mercedes, MCC-Smart, Mitsubishi, Mini, Nissan, Opel, Peugeot, Porsche, Renault, Rover, Saab, Seat, Skoda, Suzuki, Vauxhall, Volkswagen, Volvo. Grab yourself a fantastic piece of kit. The item "PROFESSIONAL 2018 Diagnostic Laptop Car/Van/Truck Airbag ABS Remap Chip Tuning" is in sale since Monday, April 1, 2019. This item is in the category "Vehicle Parts & Accessories\Garage Equipment & Tools\Diagnostic Equipment & Tools\Other Diagnostic Service Tools". The seller is "razteckcomputers2012" and is located in birmingham, West Midlands.
This item can be shipped to United Kingdom.
Supported System: ABS
Non-Domestic Product: No
Modified Item: No
OBD Interface: EOBD
Vehicle Type: Heavy Duty/Commercial
Custom Bundle: No