Power Inverter 2000W 4000W DC 12V to AC 240V USB LCD UK Plugs Car Camper EDECOA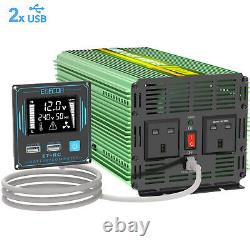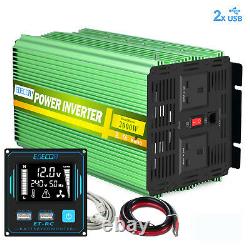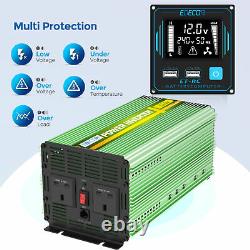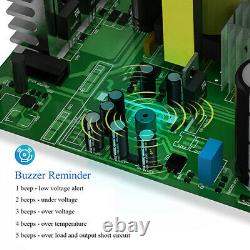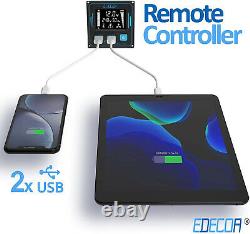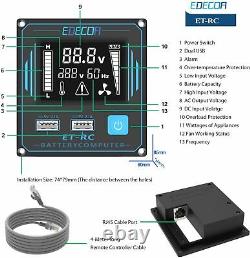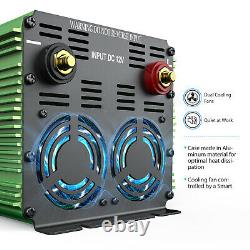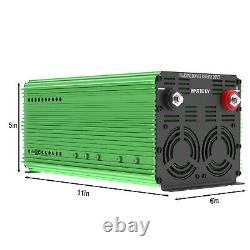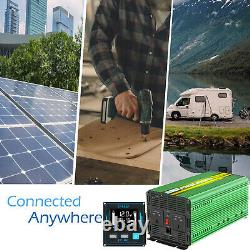 2000W 4000W DC 12V to AC 240V Power Inverter Converter free Remote microwave. It is ideally suitable for Journeys, Camping, Tents, Boat Trip, Working on the way and everywhere, where is no electricity! Simply connect the Power Inverter with a Battery and then connect to electrical appliances. POWER: Output Continuous Power: 2000w. FEATURES: A handy Remote Controller for switching off/on when mounted in an inaccessible position. Silent Fans that will spare you the typical annoying buzzing of inverters. It features 2 AC Outlets (UK Sockets). 1 Button: long press 3S to turn on and off; one short press to turn off and turn on the backlight. USB: 2 charging ports, maximum DC5V/2.1A, support Apple/Samsung/BC1.2 DCP charging protocol.
3 Triangle signal: flashing when AC voltage is 0. Over-temperature protection Signal: shows up when the internal temperature >75. Battery Undervoltage protection Singal: shows up when DC.
Display of battery capacity:(24V grid number display voltage2). Battery overvoltage protection symbol: Shows up when DC>15V (30V).
8 AC voltage display: real-time voltage display for both pure sine wave and corrected wave. Input voltage display: shared by 12/24V machines, automatic identification.
Over Load symbol: flashing during overload (short circuit) protection. Load wattage display: one-eighth of the rated power per grid (0VA-one-eighth of the rated power will display 1 grid).
Fan working symbol: displayed when the fan starts to dissipate heat. HIGH TECH MULTI-PROTECTION: Short Circuit, Over and Under Voltage, Reverse Polarity, Overheating, Automatic Voltage Regulation (AVR), Intelligent Power Management (IPM), Intelligent Fan Control (IFC). Smart buzzer alarm: 1 beep--low voltage 2 beeps--under voltage 3 beeps--over voltage 4 beeps--over temperature 5 beeps---over load. TOP QUALITY COMPONENTS: aluminum shell for excellent heat dissipation, combined with smart-chip activated fans, keep the environmental-friendly inverter cool, saving power and energy. Extra set of copper battery cables guarantee optimal power conduction.
WHY CHOOSE IT: Power Inverters with Modified waveform are the most economical solution for powering a large number of home and work appliances. They are more efficient in converting battery power to AC. So if you can withstand occasional electrical noise, this 12V DC inverter is a good cost-effective choice.
Its compact size and power make it ideal for trips, camping, tents, boats, to power working tools, as backup for power outages and for any other situation where there is no grid electricity. DC input low voltage protection. DC input over voltage protection.
Lighting(working), flash slowly(lack voltage), flash fast(fault occur and the unit is in protection situation). 1x power inverter 12v 240v 2000W 1x remote controller 4M 1 pair of black and red cable 16mm²750mm 1x Instruction. If connecting with inductive loads e.
Compressor, Pump, old CRT TV, Refrigerator, Ice conditioner, Air conditioner, RelaysFluorescent lamp, Vacuum cleaner, please choose inverter whose rate power is 3-7 times higher than the load's rate power. For example, for a 150w refrigerator, please choose a 1500w pure sine wave inverter or higher; for a 800w air conditioner, please choose 2500w pure sine wave inverter or higher. The item "Power Inverter 2000W 4000W DC 12V to AC 240V USB LCD UK Plugs Car Camper EDECOA" is in sale since Tuesday, June 30, 2020. This item is in the category "Vehicle Parts & Accessories\Garage Equipment & Tools\Power Tools & Equipment". The seller is "ctgoody218" and is located in Leicester.
This item can be shipped to United Kingdom.
Voltage (V): 12V
Power (W): 2000W
Power Source: Battery
DC Input Voltage: 12V
AC Output Voltage: 240V
Type: Power Inverter
Number of Outlets: 2 UK Outlets
Color: Green
Weight: 3.43KG
Size: 285*150*125mm
Sub-Type: Modified Sine Wave inverter
Manufacturer Part Number: 19321G2000LUK
Remote Control: Yes
Model: 2000W-12V
Brand: EDECOA