Jaguar XK XKR X150 rear LED repair service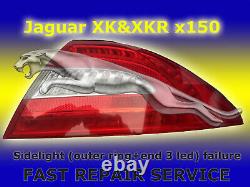 Rebuild of your light shown in listing picture. Main failure is outer sidelight ring and missing 3 tip led's. These lights have issues with water ingress and this service will cure ingress problems, but the cost will not change, but the turnaround time may increase.
Any questions, please message me. Fast turnaround (1-2 days) and big savings on replacement units.