NEW PUT&GO Placca Acciaio Dispositivo Neve Universale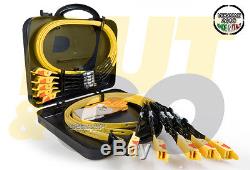 Il video dimostrativo è stato realizzato e prodotto. Dalla Biennepi Srl che è pertanto titolare di ogni relativo diritto.
Levoluzione del precedente modello che nelle ultime stagioni e risultato grande mattatore del mercato televisivo. L'offerta e' costituita da un innovativo sistema che sostituisce l'utilizzo delle tradizionali catene da neve per auto ed e' composto da n° 10 fasce (n° 5 per ogni ruota motrice) in particolare materiale plastico anti-slittamento; le modifiche apportate in questultima edizione migliorano le caratteristiche peculiari del modello originario e lo rendono ancora piu pratico anche per le persone tradizionalmente meno esperte (donne, anziani ecc). Infatti, ogni fascetta rispetto alla versione originaria, e stata integrata, sulla parte battente rivolta al terreno, di una placca dentata in acciaio che oltre a rinforzare la fascetta nel suo insieme, migliora e ottimizza laderenza, conferendo allauto una buona tenuta di strada in ogni particolare condizione; peraltro, tale innovazione, determina un consumo limitatissimo della fascetta stessa. Inoltre, il sistema di montaggio del modello precedente, seppure gia molto semplice rispetto alle tradizionali catene, e stato ri-concepito con un sistema ancora piu rapido e semplice che consiste in una fibbia a trascinamento facilitato e apposito dispositivo di serraggio a pulsante per una chiusura/apertura sicura e immediata. Le New Put & Go sono utilizzabili su qualsiasi tipo di vettura e per ogni dimensione e tipologia di pneumatico (dall'utilitaria al fuoristrada al caravan, al furgone ecc).
Unico requisito per un corretto utilizzo è che tra le ruote e l'ostacolo più vicino ci sia almeno 1 cm di spazio per consentire il passaggio senza il contatto delle fasce (generalmente lo spazio è molto più ampio). Viene fornito un paio di guanti di sicurezza a norma CE, molto utili in fase di montaggio e in ogni condizione atmosferica.
Il tutto racchiuso, in ordine e pronto all'uso, in una custodia a valigetta molto compatta, pratica da riporre, senza particolare ingombro anche in un piccolo vano dell'auto. UTILIZZABILI SU PNEUMATICI DA 135\80 R13 A 265\35 R18. DEL NUOVISSIMO MODELLO, EVOLUTO E MIGLIORATO. NON DISPONIBILE FINO AL 20/25 OTTOBRE.
An innovative system replaces the traditional car snow chains. Made up of 10 anti-skid plastic strips (5 for each driving wheel), it is handier than the previous model also for who thinks to be incapable. Each strip has got a NEW TOOTHED STEEL PLATE on the side that touches the ground. It optimizes and reinforces the strip itself, giving to the car a good grip in every condition. This innovation reduces the consumption too. The ASSEMBLY system, already very simple in the previous model, is again FASTER, composed by an easy trailed buckle and a tightening button to open/close safely. New Put & Go is perfect for every kind of car, for every dimension of tyre. It needs only 1 cm (generally much bigger) between wheels and the closer obstacle, to permit transit and avoid strips' touch. And that is not all! You will receive safe gloves (regulation CE) very useful to assemble the device in every atmospheric condition. Everything will be orderly inside a compact and little case similar to an overnight bag. TYRE BETWEEN 135/80 AND 265/35. La evolución del presente modelo en las ultimas temporadas a sido gran protagonista del mercado televisivo. La oferta se compone de un innovador sistema que reemplaza el uso tradicional de las cadenas de nieve para los coches n° 10 bandas (n° 5 para cada rueda motriz) en particular, material plástico. Los cambios efectuados en esta ultima edición mejoran las características del modelo original. Lo que hace aun mas práctico, incluso para las personas con menos experiencia (mujeres, ancianos, etc). De hecho cada banda respecto a la versi. N anterior le fue construido en la parte que da al suelo una placa de acero dentada que ademas se reforzar la banda en su conjunto, aumente y mejora la adherencia, dándole al coche una carretera en buen estado sosteniendo en cada caso particular, esto da lugar a la innovaci. N en su consumo muy limitado de la misma banda. Ademas el sistema de montaje del modelo anterior si era ya simple de montarlo respecto a la tradicional cadena, fue rediseñado con un sistema aun mas rápido y sencillo que consiste en una hebilla con un arrastre dentado que permite una fácil utilizaci. N y un cierre a botón de seguridad. La "New Put&Go" puede ser utilizado en cualquier tipo de vehículo y para cada tamaño y tipo de neum á tico. El único requisito para un correcto uso es que entre la rueda y el obst á culo mas cercano hay 1 cm de espacio para permitir el paso sin tocar los lados (por lo general el espacio es mucho mayor). Viene un par de guantes de protecci. N marcado CE, de gran utilidad durante el montaje y en cualquier condici ó n clim. Todo ello contenido en orden y listo para su uso, en una confecci. N a maleta practica para almacenar, sin ningún espacio en particular solo un pequeño compartimento del coche. UTILIZADO EN NEUMÁTICOS 135\80 R13 A 265\35 R18. DISTRIBUIDOR''EXCLUSIVO OFICIAL'' DE NUEVO MODELO, DESARROLLADO Y MEJORADO.
L'offre est constituée d'un système novateur qui substitue l'utilisation traditionelles des chaines de neige pour automobile et elle est composée de bandes n°10 (n°5 pour chaque roue motrice) en particulier de matérielle plastique antidéparapage. Les modifications apportées dans cette dernière édition, améliorent les caractéristiques particulières du modèle original et ils le rendent aussi plus pratique meme pour les personnes traditionellement moins expertes (femmes, personnes agées etc). En effet, chaque''bande'' par rapport à la version originale, a été complétée sur la partie battant retournée sur le terrain, d'une plaque dentelée en acier qui en plus de renforcer la bande dans son ensemble, elle améliore et optimise l'adhérence, en conférant à l'automobile une bonne tenue de route dans chaque condition; d'autre part, une telle innovation, détermine la consommation très limitée de la meme bande. En outre, le systéme du montage du modéle précédent, ètant toutefois déjà très simple par rapport aux chaines traditionelles, il a été reconçu avec un système encore plus rapide et simple qui consiste dans une boucle à entrainer facilité et est approprié d'un dispositif de sérrage à bouton pour la fermeture/l'ouverture sure et immédiate. Les New Put&Go sont utilisables sur n'importe quel type de voiture et pour chaque dimension et tipologie de pneus (de l'utilitaire au tout-terrain, à la caravane, au fourgon ect).
L'unique requis demandée pour une une utilisation correcte est que parmi les roues et les obstacles plus proche soient au moins 1 cm d'espace pour permettre le passage sans le contact des bandes (généralement l'espace est plus vaste). Il est fourni une paire de gants de sécurité aux normes CE, très utiles en phase de montage et dans chaque condition atmosphérique. Tout renfermé, sous odre et pret à l'usage, dans une malette très compacte, pratique à ranger, sans aucun encombrement dans un petit vain de l'automobile. UTILISABLES SUR DES PNEUS DE 135/80 R13 A 265/35 R18.
DISTRIBUTEUR''EXCLUSIVITÉ OFFICIEL'' DU NOUVEAU MODELE, DÉVELOPPÉ ET AMÉLIORÉ. Nuova Placca in Acciaio Temperato. The item "NEW PUT&GO Placca Acciaio Dispositivo Neve Universale" is in sale since Friday, November 19, 2010. This item is in the category "Veicoli\ ricambi e accessori\Auto\ cerchi e pneumatici\Catene neve". The seller is "biennepi" and is located in Lucca.
This item can be shipped to North, South, or Latin America, all countries in Europe, all countries in continental Asia, Australia.
Marca: Put & Go
MPN: 240EB
Marca Auto: Tutte le Marche
Scopo utilizzo: Tuning
Paese di fabbricazione: Italia