2.0 Ford Pinto 205 Engine Package 144bhp Webers, Type 9 etc. For kit car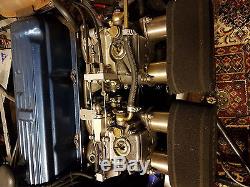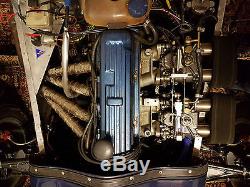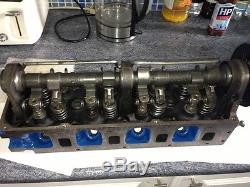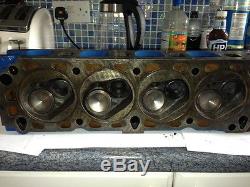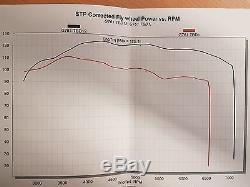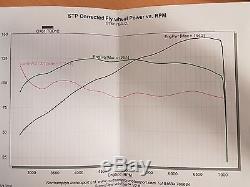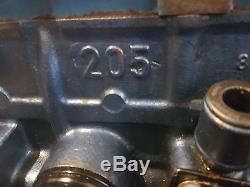 I need more power as the pinto is just lacking a bit for my sprints and hill climbs as cant really compete with the other lighter modern engine cars hence the engine swap. The engine has more than enough power and torque to ensure you keep your wits about you, even in my car which is 640kg. It is blisteringly quick and more than adequate for road driving, even the odd track day/sprint event. The engine and everything as follows. Stage 3 big valve cylinder head BF134 Cam (High Torque) + Vernier Pulley. Twin Weber 45s with manifold + Sytec linkage. Standard bottom end engine 205 block. Type 9 Gearbox + Clutch Standard. Radiator + Hoses (if wanted). Battery - Standard car battery (if wanted). Description of parts shown above detailed below. Cylinder head - Stage 3 ported big valve cylinder head - Valve sizes Inlet - 44.4mm Exhaust - 38.1mm.
Was added as an upgrade onto the engine around 1500 miles ago (2 years). BF134 high torque cam only done 1500 miles. Wills ring setup to cylinder head (addition to head gasket) to ensure best seal to the block. The seal increases when driven harder (engine gets hotter) due to the nitrogen filled rings expanding.
Head gasket was done about 200 miles ago and no leaking or problems and wont need doing again for a long time. Standard bottom end engine 205 block - shortened sump - few scratches and marks to bottom as expected, replacements are cheap but not needed as it doesnt leak.
Apparently the bottom end of the engine was rebuilt with new seals, rings to pistons and big end shells etc. When the engine was first put in the car 1800 miles ago. This however I can't prove but it runs as sweet as nut so have no reason to say it wasnt. It was setup by Northampton Motorsport with readings of 144.2 BHP and 125.1 foot-pounds of torque (169.6 newton-meters) I have just replaced a few things on the cylinder head such as the follower retaining springs and oil spray bar with a new rocker cover gasket. Vernier pulley its the stronger cast type, much stronger than the newer alloy type. Twin weber carbs 45s with Sytec duel throttle linkage kit including Ram Air filter socks and long trumpets (set up and re-jetted by Northampton Motorsport and can include receipt and dyno output figures) including manifold + air flow meter to ensure carbs are balanced. Lightened flywheel weights 6kg and makes a nice difference to the revving speed and also includes starter motor - all working fine.
Will come with engine mounts which you might be able to utilise currently sitting in a Tiger Cat E1. You can have the radiator as well if you need it, its not in the best condition as its starting to rust internally but will be adequate to get you started until you are able to upgrade. Including header tank as well, can also include coolant pipework, again if needed. Exhaust manifold (wrapped in volcanic fiber wrap - if its possible to keep this attached in the removal of the pipes you can have it) re-packable silencer which has been repacked about 200 miles ago and 6 diameter x 24 long.
4 - 1 exhaust setup. Oil was replaced when engine was last out about. Seems fine and never had a problem with it.
Includes the extender kit and gear lever. Bell housing and clutch are as standard, worked fine for me, could potentially have an up rated one if driven hard but have never been necessary for me. Megajolt ECU includes everything needed EDIS module and coil pack etc. Coil pack I have mounted on the old distributor this has been cut off and shortened and the coil pack mounted on top so looks like it still has the standard distributor, trigger wheel and sensor, weber throttle position sensor on carbs included and the ability to include a launch control button which I never fitted. It does have a shift light connected at the moment but due to having fitted the shift light in a certain way I dont really want to take it off.
Includes a Denso alternator, can even throw in the car battery for it if you like, as I will be getting a smaller race one. I think thats everything, I also have a few videos of the engine running. The engine will be getting removed next weekend 10. Can Collect from Corby area. Can help put in buyers vehicle with engine crane.
Cash on collection or bank transfer. Listing could potentially be removed early as it is advertised elsewhere. The item "2.0 Ford Pinto 205 Engine Package 144bhp Webers, Type 9 etc. For kit car" is in sale since Monday, June 05, 2017. This item is in the category "Vehicle Parts & Accessories\Car Parts\Other Car Parts".
The seller is "matty1154" and is located in Corby. This item can't be shipped, the buyer must pick up the item.