BM Cats DPF BM11033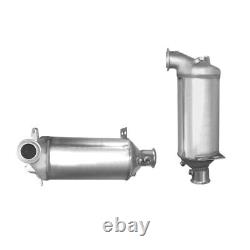 BM Cats DPF - BM11033. Diesel vehicles have become increasingly popular as diesel engine technology continues to advance due to their superior fuel economy.
The drawback with diesel vehicles, however, is that they have high emissions compared to their petrol counterparts. In response to this, Euro Emissions Standards were tightened and greater environmentally friendly initiatives developed.
One of the most prominent was the introduction of diesel particulate filters (DPFs). The DPF is part of the exhaust system which helps reduce the amount of harmful particulate matter expelled within exhaust gases. This product comes with fitting kit - FK11033A. Fitting kits are specific to each product and will contain gaskets, clamps etc where applicable. For an exact list of components in each applicable kit, drop us a message.
Fits - VW MULTIVAN, VW TRANSPORTER / CARAVELLE, VW TRANSPORTER. OEM References - 7H0254700DX, 7H0254700L, 7H0254700LX, 7H0254700PX.
We operate 12 sites across the UK, including our 100,000 sq. Online, we offer over 100,000 car parts and accessories to both public and trade customers, so whether you're looking for mechanical components or consumables, we've got everything you need.
We represent 27 car manufacturers and have both OEM and aftermarket parts available. Arnold Clark Autoparts is a VAT registered company and all of our prices are inclusive of VAT. In the event that you receive a faulty or incorrect item from us, please let us know and we will try to replace it as quickly as possible. Warranties are not applicable if parts are used on vehicles used for hire or reward. Registered Office: 1394 South Street Scotstoun Glasgow G14 OAP.
Telephone Number: 0141 950 4018. VAT number: GB 334 3318 79.