BISON 40'/lb ELECTRIC OUTBOARD TROLLING MOTOR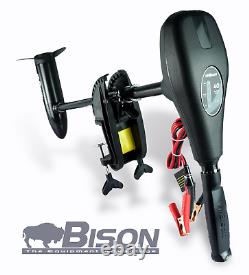 BISON 40'/lb ELECTRIC OUTBOARD TROLLING MOTOR. Beach and Shore Fishing Kits. BULK HOOKS IN 1000'S. Flotation Suits & Life Vests. Dock Lines And Ski Ropes. Carp & Specialist Luggage & Ac. BISON TROLLYS BROLLYS & CHAIRS. ELECTRIC OUTBOARDS > Bison Electric Outboards. Bison are the leader in quality & affordable inflatable boats, electric trolling motors, and marine accessories. Founded in 2005, Bison ships from our UK warehouse directly to your doorstep. Our experienced staff will help answer any and all questions promptly and professionally. Thanks to the high grade stainless steel and zinc componentry, all Bison motors can be used in both fresh and salt water.
All trolling motors from Bison can be used on a wide variety of watercraft including; mud boats, sailboats, inflatable boats, jon boats, bass boats, pontoon boats, tenders, dinghies, canoes and kayaks. We are proud to offer the best kayak motor and trolling motors on the market. Put one to the test and see why Bison is the best value electric motor on the market.
Designed for Salt and Freshwater use. Low Noise indestructible Composite shaft stronger than steel, flexes on impact. Lever Lock Transom Bracket will not break, kink or corrode. Twice as strong as conventional brackets. Patented swept back design pushes weeds away without draining valuable power.
Battery Level Meter You'll always know how much battery life you have left with the LED power meter. Best Power To Battery Life Ratio.
Free spare prop with all Bison motors. Now with updated and improved casings, long life switch, and high temp brushes.
Since the speed depends on many factors such as loading, water speed, wind etc, it is difficult to describe the speed, for reference : Boat Size: 2.3m Loading: 90kg Water: Quiet water. Light weight, portable design, far lighter than petrol outboards. Completely environmentally friendly, no smell, no smoke, no noise. CE certified & built to ISO standards.
VERY low noise output makes electric outboards your ideal fishing companion, you can now cruise up on that big fish in virtual silence. Maintenance free makes electric outboards your choice for your next auxiliary engine - no more dirty carburettors, oiled up spark plugs, stale fuel -etc. Low running costs, with the price of petrol increasing at an alarming rate electric outboards are the sensible choice. Size or power of motor?
18 lb thrust motor is ideal for kayaks, canoes and dinghy to 6' and will move a kayak or canoe at 3 or 4 mph in most conditions. The 40 ft /lb is ideal for fisherman in boats in sheltered locations and is the a popular motor for fishers it will move most angling type fishing boats at 3 to 4 mph in reasonable conditions.
The 55 ft /lb motor is again a popular choice for anglers and is suitable for larger waters and gives that little bit extra power that can be required if the wind picks up, should move most fishing type boats in the 12 to 16 size at 4 or 5 mph in reasonable conditions. Bison 68 ft/lb motor is ideal for the larger waters , sea and larger fishing boats. 100 ft/lb motors are 24 volt (2x12volt batteries in series) and have a range of commercial uses and can move large boats. To power your electric outboard you will need a DEEP CYCLE battery, also known as a LEISURE battery in our experience 85Ah is an ideal size for most applications. As a rough rule of thumb, to calculate the size of battery you need, just take the max amps draw of your desired motor from the table, and times that by the number of hours you wish to use the motor.
Then add 20% so you aren't completely draining your battery every time. So, for the 55LB motor, 52A at max speed, We wish to run it for an hour, so: 52amps x 1hours = 52 52 + 20% = 63 therefore we would require a 65 Amp Hour battery or larger.
Also worth noting is that current consumption at slower speeds is much less, you will draw about a quarter of the charge from your battery at low speed. We do not sell batteries, we recommend Tayna batteries. This is the battery I we use here in the shop. You can be confident that in the very un-likely case that something should go wrong that there is a fully qualified team of technicians here in the UK. We carry a range of spare parts and our technician will always be happy to give advice on modifications and faults. Link to Bison Electric Outboards user manual. High-quality accessories that add to the flexibility and performance of your setup. Bison Battery Box - The Bison battery power box is a unique 12 volt power station that quickly, easily and safely stores and distributes power from a 12 volt marine battery directly to your appliances and/or motor. Available here Bison Outboard Bag - Protect your motor during transport and storage. Available here Bison Battery Charger - Available here. This product has no reviews yet, however see what our buyers say about our other products.. We will send the correct invoice with. International orders are generally received in under 14 days.
Back Orders: If your item is not in stock, we may back order for you. You will always be emailed with the option to cancel your order if you would rather not wait. I don't know how you feel but I absolutely LOVE receiving parcels by post.
It can be quite exciting to open up the package to see what's inside. Almost as good as Christmas :. So we do our best to ensure that you receive what you order as quickly as possible and without problems. We don't want to spoil your enjoyment.
But sometimes things do go wrong, despite our best intentions. We have to rely on people who are not employed by us e.
However, if the worst happens, we want to put things right as quickly as possible. We need YOUR help to achieve this. Don't delay in telling us if something is wrong - even if you think you can put it right without bothering us.
We WANT to be bothered; that's what you are paying for. The item "BISON 40'/lb ELECTRIC OUTBOARD TROLLING MOTOR" is in sale since Wednesday, September 7, 2011. This item is in the category "Vehicle Parts & Accessories\Boats Parts & Accessories\Boat Engines & Motors".mad" and is located in Lanark.
This item can be shipped to European Union member countries.
EAN: 5055457271089
UPC: 5055457271089
MPN: B40
Brand: BISON