7 Einlagen für Werkzeugwagen Werkstattwagen mit Handwerkzeugen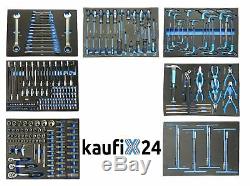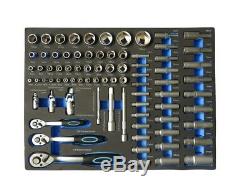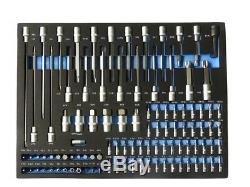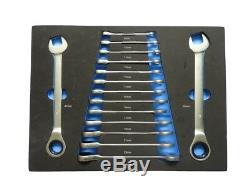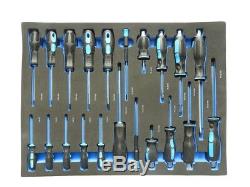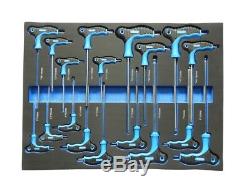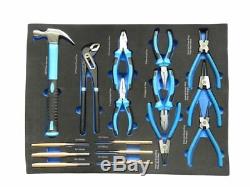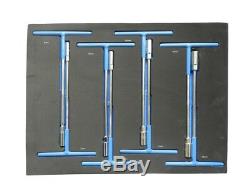 Hierbei handelt es sich nur um die Einlagen für Werkstattwagen. 3 Knarren/Ratschen feinverzahnt (1/4 Zoll , 3/8 Zoll, 1/2 Zoll). 13 Nüsse von 4mm bis 14mm. Verlängerung 65mm 3/8 Zoll Zubehör. 10 Nüsse von 10mm bis 19mm.
11 Langnüsse von 8mm bis 19mm. Verlängerung 115mm 1/2 Zoll Zubehör. 17 Nüsse von 10mm bis 30mm. 9 Lngnüsse von 10mm bis 24mm. (T8, T9, T10, T15, T20, T25, T27, T30, T40).
(TT8, TT9, TT10, TT15, TT20, TT25, TT27, TT30, TT40). (PZ0 bis PZ3, PH0 bis PH3). (TS10, TS15, TS20, TS25, TS27, TS30, TS40, TS45, TS50). (T40, T45, T50, T55, T60, T70). Innen Torx- Nüsse mit Bohrung.
(TT40, TT45, TT50, TT55, TT60, TT70). (H7, H8, H10, H12, H14). Kurzaufsatz Imbuss (H14, H17, H19, H22, H24). Mittlereraufsatz Imbuss (H5, H10, H11, H13).
Torx (T40, T45, T50, T55, T60, T70, T80). Vielzahn (M9, M10, M12, M14, M16, M18).
Langaufsatz Torx (T30, T45, T50). Maul- Ratschenschlüssel 9 bis 17mm ; 19mm ; 21mm ; 22mm ; 24mm; 27mm; 30mm. SL3.0 x 100mm Kreuz. Schraubendreher mit Softgriff und Außen Sechskant: Schlitz.
SL6 x 38mm ; SL5 x 75mm ; SL6 x 100mm ; SL8 x 150mm. Kreuz : PH2 x 38mm ; PH1 x 75mm ; PH2 x 100mm ; PH3 x 150mm.
T6 x 80 ; T7 x 80 ; T8 x 80 ; T9 x 80 ; T10 x 80 ; T15 x 100 ; T20 x 100 ; T25 x 100 T27 x 100 T30 x 100 ; T40 x 150. T-Griff Imbus (3 x 115mm ; 4 x 120mm ; 5 x 140mm ; 6 x 160mm ; 7 x 170mm ; 8 x 175mm ; 10 x 200mm). T-Griff TORX T10 - T40. (Kombizange , Seitenschneider , grade Spitzzange, gebogene Spitzzange, Rohrzange). Latthammer - Körner (3mm, 4mm, 5mm, 6mm, 7mm, 8mm).
T-Griff Steckschlüssel (6mm, 7mm, 8mm, 10mm, 11mm, 12mm, 13mm, 14mm). The item "7 Einlagen für Werkzeugwagen Werkstattwagen mit Handwerkzeugen" is in sale since Friday, August 31, 2018.
This item is in the category "Auto & Motorrad\ Teile\Werkzeuge\Werkzeugkasten & Aufbewahrung\Werkstattwagen & -koffer". The seller is "kaufix_store" and is located in Hilden. This item can be shipped to all countries in Europe.
Marke: Kaufix24
Herstellernummer: 8944141946211